Publications of the Project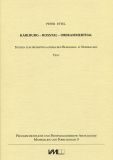 Ettel, Peter; Kerth, Klaus

Karlburg - Roßtal - Oberammerthal

Studien zum frühmittelalterlichen Burgenbau in Nordbayern; Grabungen des Bayerischen Landesamtes für Denkmalpflege K. Schwarz, R. Koch, L. Wamser. Text

Frühgeschichtliche und Provinzialrömische Archäologie. Materialien und Forschungen

5,1

BV013177629

2001, Leidorf, Rahden/Westf.

423 S.; Ill., graph. Darst., Kt.